Ash's voice was interpreted by:
Japan: Rica Matsumoto
In Japan, the voice actors are called Seiyuu and they are very important figures, because in Japanese culture it'ss as if they "reincarnated" the characters they dub.
In fact, there is no wonder when Rica is often called "Satoshi Sama" or similar.
Rica, as well as being a talented actress and voice actress, is also a singer, In fact, in addition to having published some of her albums, she sang most of the opening themes of the anime Pokémon impersonating Ash who, in dubbing too, is rendered very well by the masculine voice of Rica.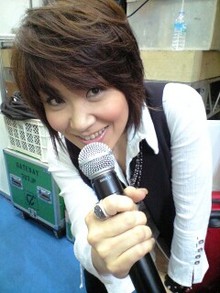 About Ash, Rica said during an interview: "Satoshi (Ash) always comes up with fun phrases, such as 'pajama wa jama' (Japanese pun that more or less means 'pajamas are a threat') or jokes. This is what drew me to him as a character. "
Ash dubbed by Rica in the first series:
Ash dubbed by Rica now:
English dub:

Veronica Taylor

&

Sarah Natochenny
Veronyca Taylor has been Ash's English voice actress for 4Kids Entertainment and has held this role until the series Advanced Battle comprised. From then on she has been replaced by Sarah Natochenny.
Veronica voiced Ash in the first 8 seasons, so she gavea childish voice to the character (despite she tried, as far as possible, to create a more "mature" voice) . With the transition from 4Kids to Pokémon USA, which required a change of voice actors too, the staff decided to give Ash a voice similar to Rica Matsumoto's one, so the role passed to Sarah Natochenny.
Veronica Taylor was also the voice of Delia (Ash's Mom) and May, while Sarah Natochenny was also Dawn's Buneary.
Veronica's voice while she interprets Ash:
Sarah's voice while she interprets Ash:
Italy:

Davide Garbolino
Italian famous voice actor who interpreted many characters in animated series and movies. Several years ago led "Ciao
Ciao" and "Ciao Ciao Mattina". He is the official voice of Topo Gigio (2005) and Bugs Bunny.
Regarding the Pokémon anime, Davide interprets Ash's voice since the first series, therefore always, in fact, over the years, he has done an excellent job of recreating the  "growing up voice" of Ash.
He also directed the dubbing of the film "Pokémon The Rise of Darkrai".
Davide's voice while he interprets Ash (tracks taken from the 3rd movie and XY, so you can notice the "growing up" voice)
Spain:

Adolfo Moreno
Adolfo's voice while he interprets Ash: 
Germany:

 

Veronika Neugebauer

 and 

Caroline Combrinck
Veronika Neugebauer has dubbed Ash only in some series (EP158–DP104), the principal (who still holds the role) is Caroline Combrinck (EP001–EP157, DP105-/).
Veronika's voice while she interprets Ash:
France:

 Aurelien Ringelheim
Aurelien's voice while he interprets Ash:
Norway: 

Nils-Martin Crawfurd
Nils-Martin's voice while he interprets Ash:
Sweden:

 

Dick Eriksson
Dick's voice while he interprets Ash:
Denmark:

 

Mathias Klenske
*photo not available*
Matias's voice while he interprets Ash:
Other States:
| | |
| --- | --- |
|  Arab | Buthaina Shia |
| | |
| --- | --- |
|  Catalan | Enric Puig |
Chinese Mandarin
 Hè Shìfāng
Li Míngxìng
Wāng Shìwěi
| | |
| --- | --- |
|  Czech Republic | Radek Škvor |
 Croatian
Saša Buneta
Marko Torjanac
| | |
| --- | --- |
|  Philippine | Klariz Magboo |
 Finnish
Sari Moilanen
Hanna Savikko
| | |
| --- | --- |
|  Dutch | Christa Lips |
| | |
| --- | --- |
|  Canadian | Sébastien Reding |
| | |
| --- | --- |
|  Greek |  Voula Kosta |
 Israeli
 Yonatan Magon
Daniel Magon
 Hindi
Rahul Sharma (Cartoon Network dub)
Nachiket Dighe (Hungama dub)
 Hungarian
Szvetlov Balázs
Ungvári Gergely
 Korean
 Choi Deok-Hyi
Lee Seon-Ho
An Hyeon-Seo
 Polish
Hanna Kinder-Kiss (EP001-AG040, DP053-/, all movies)
Grzegorz Drojewski (DP001-DP052)
Portuguese
Fábio Lucindo
Maria João Luís (EP001-EP031)
Sandra Faleiro (EP032-EP094)
Sandra de Castro (EP095-EP128, EP158-EP209, AG093-AG177), DP001-/, Pokémon Live)
Alexandra Sedas (EP129-EP157)
Cristina Carvalhal (movies 3 and 4)
Bárbara Lourenço (EP210-AG040)
Raquel Ferreira (AG041-AG092)
Ana Madureira (AG178-AG192)
 Russian
 Anna Levchenko (EP001-EP105)
Larisa Nekipelova (DP105-/)
 Latin America
Gabriel Ramos
Irwin Daayán (DP091-DP104)
Emiliano Dionisi (movies 6 and 7)
| | |
| --- | --- |
|  Turkish | Ahmet Taşar |
---
Sign the petition to say "Stop Rebooting Ash in the Pokemon Anime!" You only need few second and you can also prefer to remain anonymous hiding all your personal data!
---
Pokénerd was born in Umbria, Italy, in June 1992. She got so attached to the pokémon anime since the very beginning that she carefully watches every single episode. Her knowledge about the main character, Ash Ketchum is really vast. She discovered everything about him, and now she manages the entire online encyclopedia